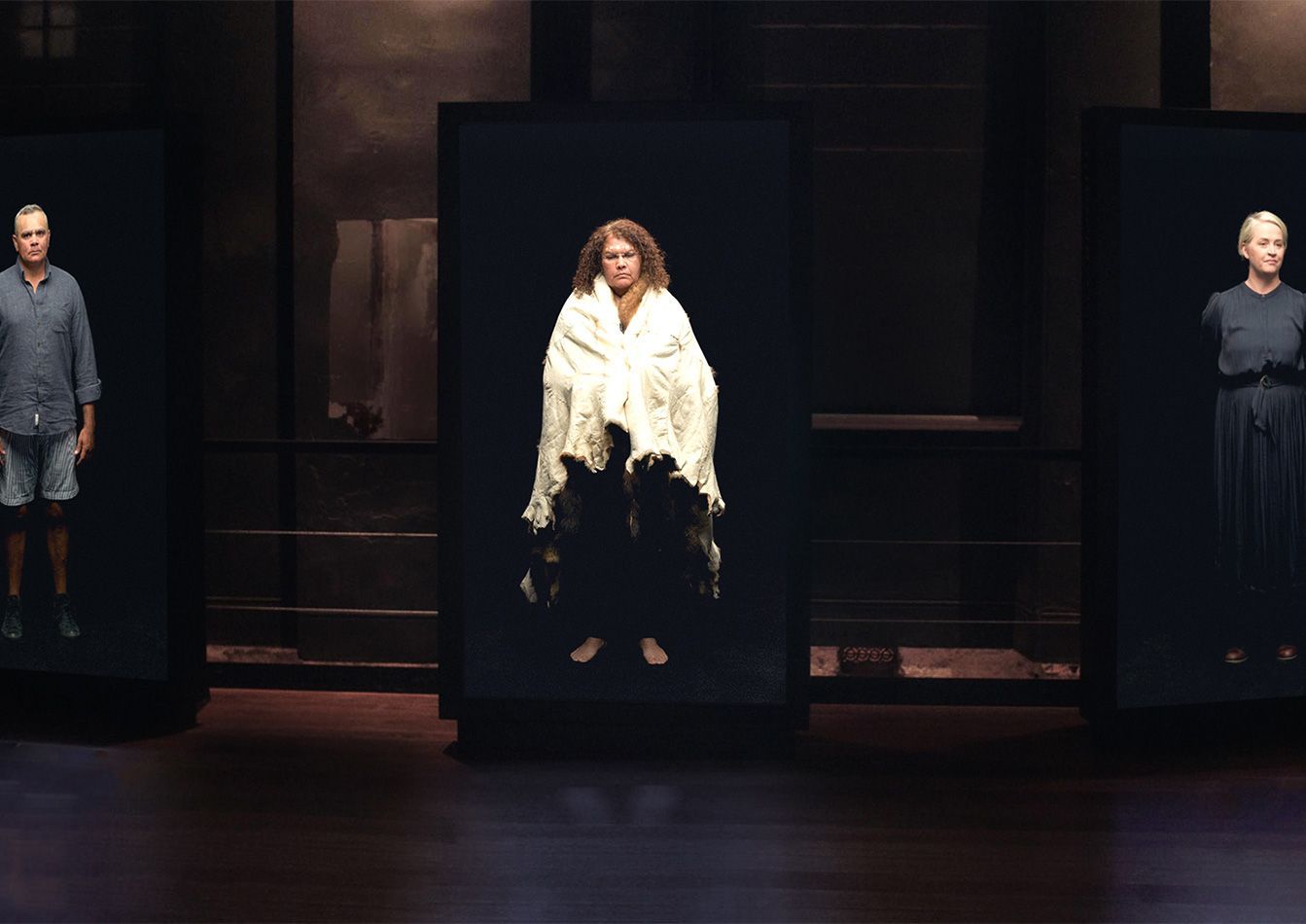 Hyde Park Barracks Museum
Exhibition Design
Imagine a heritage museum with no reading required.
A UNESCO World Heritage site, Sydney's Hyde Park Barracks offer a rare living record of early colonial Australia. Tasked with transforming an outdated historical museum into a cutting-edge cultural destination, Creative Director Elvira Barriga and her team at Local Projects set out to immerse visitors in the lived experiences of the building's past inhabitants as well as give a voice to the aboriginal perspective.
The design process started with the incitement to "Imagine a heritage museum without any text panels". This provocative challenge led to the creation of an award-winning new benchmark in experiential storytelling within a place-based museum.
At the core of the new museum experience is a custom-designed "Story Guide", which tracks the visitor's position and seamlessly delivers location-specific content. The guide weaves vivid storytelling and first-person narratives together into an emotional, unexpected, at times poetic, piece of environmental theatre.
«This nuanced and immersive exhibition is the winner of Fast Company's 2021 Innovation By Design Awards for Enduring Impact. The redesigned museum brings a multitude of voices and stories to enliven the complicated narrative of colonial Australia.»
This immersive 360° installation turns the museum's panorama painting of Sydney in 1815 into a playful interactive. The visitors' position is tracked to activate the animation of little vignettes that depict the convicts' life and the presence of Australian Aboriginals.
A large sculptural form stretches across two galleries on the third floor. Visitors are invited to explore multiple perspectives on the colonial expansion through a number of dioramas, illustrating scenes of convict labour and the settler's impact on Aboriginal communities.
An open circle with nine pillars clad in native wood commemorates the Myall Creek Massacre of 1838. Visitors are surrounded by 360º video footage from the original crime site, shot on the anniversary the atrocity was committed. In voice-over, Aunty Sue Blacklock, a descendant of a Gamilaraay survivor, recounts the story of the carnage inflicted upon the indigenous people by the settlers.
«This was the best 12 dollars I have spent in Australia.»
An interactive panorama of Sydney 1848 bookends the narrative of the convict experience by echoing the panorama from 1815, which opened it. Visitors are tracked via motion sensors, their movement transforming a line drawing of Sydney at the end of the convict era into a colourful illustration of a modernising city.
«A new benchmark for storytelling finds a fresh balance between multiple voices, where both analogue and tech-driven viewing experiences aim for the authentic, rather than an authoritative tone.»
Gina Fairley, artshub.com.au
The "Legacies Gallery" concludes the exhibition experience with three life-size screens giving voice to indigenous elders as well as descendants of convicts and immigrant women who once inhabited the Barracks. They share their reflections on the impact of the Barracks on their ancestors, communities and personal biographies.
«Just go! This may have been one of the best done museums that I have seen in 40 years of travel.»
Services

Stakeholder Engagement
Content Strategy
Exhibition Design
Interactive Installations

With & For

Local Projects, NYC
Sydney Living Museums

Team

Creative Direction: Elvira Barriga
Exhibition Architecture: Nico Guillin, Jenny Wong
Media & Graphic Design: Charlotte van den Bosch, McKenna Cole
Creative Technology: Oriol Ferrer Mesià, Nicole Messier, Avi Grayson
Content Development: Rebecca Bureau
Media Production: Keeli Shaw
Photography: Brett Boardman, Oriol Ferrer Mesià

Awards

Fast Company Innovation by Design Awards 2021: Winner for Enduring Impact
Magna 2020 – Australian Museums and Galleries National Awards: Winner Permanent Exhibition
Core77 Design Awards 2021: Runner Up for Interaction Award