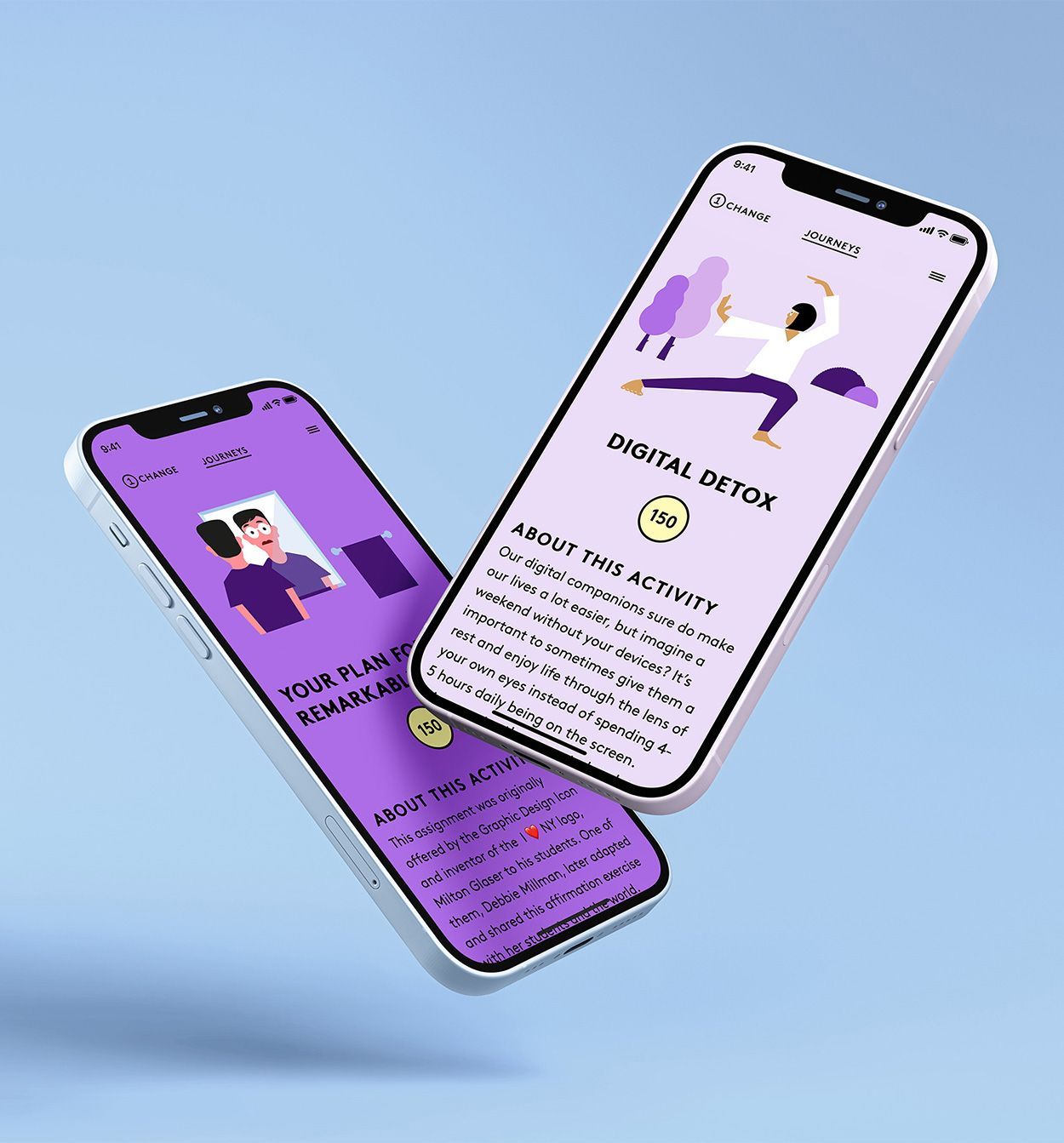 1 Change, Copenhagen
Digital Platform
Tapping into resilience, one click at a time.
1 Change founder Ole Hoyer has delivered in-person resilience training to global industry leaders for 15+ years. On a mission to empower even more people worldwide to increase their capacities in their professional and personal lives, Hoyer reached out to TTM to translate his holistic approach into a digital experience.
Working on a minimal budget to a tight timeline, we first refreshed the company's Brand Positioning and Visual Identity before mapping the user experience and applying the new look and feel to the digital platform.
The result is a seamless distillation of the 1 Change Resilience Methodology into a fun, transformative digital experience that enables users to integrate one practical new life change at a time.
The digital platform includes a resilience assessment and a total of 12 journeys with over 100 activities in the areas of Body, Mind, Heart, and Spirit. Users receive recommendations for their personal journey based on their resilience score. Resilience-building activities are supported by curated expert content (interviews, articles, podcasts), progress tracking and opportunities for community sharing.
«I found the 1 Change Resilience experience to be insightful in ways I didn't expect, allowing me to uncover my blind spots and improve not only my resilience but also the understanding of my deepest self.»
Playful, witty and full of heart, Robert Hanson's illustrations perfectly express the core brand values of simplicity, passion and human-centeredness.
An initial assessment of their current resilience levels gives users an overview of their strengths as well as their untapped potential in the four areas of Body, Heart, Mind and Spirit. Based on their results, users receive tailored recommendations for the three journeys that have the potential to make the biggest difference.
The new website outlines how the 1 Change Resilience Platform can help to increase resilience, build capacity and optimise performance in all aspects of life – one change at a time.
Services

Brand Positioning
Visual Identity
Website
Digital Platform
User Experience
Content Creation

With & For

1 Change ApS

Team

Creative Direction & Design: Elvira Barriga
Illustrations: Robert Hanson
UX: Elvira Barriga, Kenneth Jensen
Content: Ole Hoyer, Elvira Barriga, Jonas Fribo
Front-End & Back-End Development: Aju Kreizi