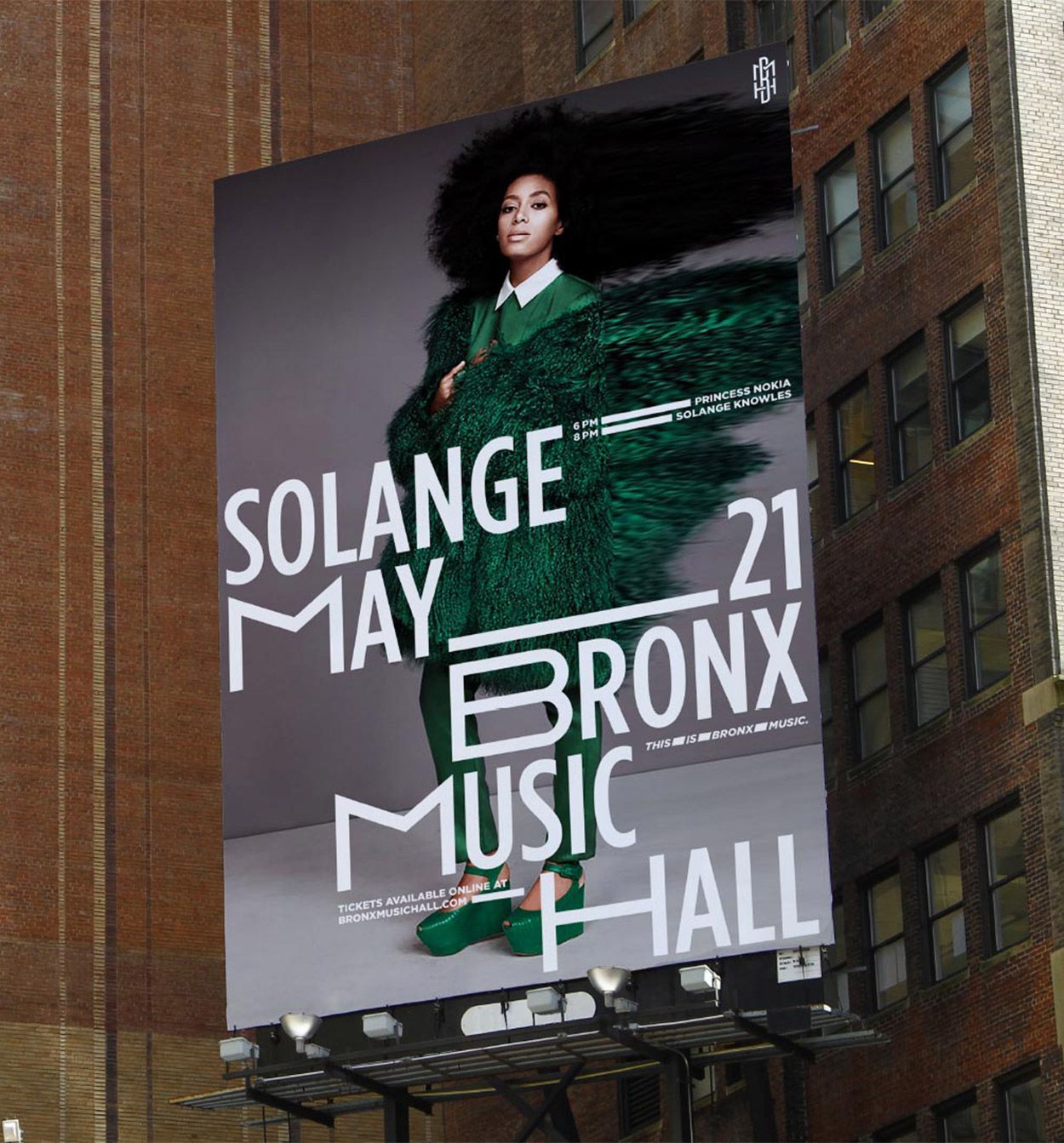 Bronx Music Hall, NY
Visual Identity
Push it real good.
The Bronx Music Hall is an upcoming performing arts and exhibition space designed to give a stage and spotlight to the birthplace of hip-hop and other legendary music. The assignment was to create a brand identity that would honour the borough's rich heritage as a cultural and creative melting pot, while simultaneously pushing it forward.
The ideation process started with distilling the visions and viewpoints of different stakeholder voices into a set of key insights that formed the core of the brand positioning. These were synthesised into the brand and design guidelines, along with the project motto—"Keep on pushing"—which informed the creative process from the first drafts to the final sign-off.
The result is an eclectic look & feel that functions cohesively across collateral, signage and exhibition design. Embodying an experimental freshness, lyrical rhythm, rough edges and joyful exuberance–we captured the soul of the Bronx itself.
At the heart of the Visual Identity is a customised font system that uses stretched versions of the letters B, M and H—the Bronx Music Hall abbreviation—to turn every typed text into a distinct and surprising visual rhythm.
In addition to a distinctive wordmark, incorporating the venue's stretched initial letters, an emblem was created with the abbreviation "BMH". While the former is classy and timeless, the latter is quintessentially Bronx-style: a fusion of high fashion monograms and edgy street style."
A cohesive image treatment takes the motto "keep on pushing" quite literally, taking a 1-pixel strip and "pushing" it to the edge of the image. The effect creates a unified look-and-feel across the diverse range and quality of promotional imagery and footage at the venue's disposal—while also upholding the rhythmic energy inherent to the brand.
Services

Brand Positioning
Brand Strategy
Visual Identity
Signage

With & For

Local Projects, NYC
WHEDco, WXY Architects, NYC
Bronx Music Heritage Center

Team

Creative Direction: Elvira Barriga
Strategy: Elvira Barriga
Graphic Design: Anthony Roy
Spatial Design: Theo Pinto